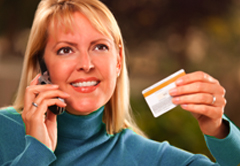 1. When is my customer's date of payment available? Answer
2. What is the cost per transaction? Answer
3. What company name will appear on the customer's statement for each charge
made? Answer
4. Can customers pay more or less than
the amount of their bill? Answer
5. What credit/debit cards are accepted? Answer
6. Can customers make payments if they do not know their account number? Answer
7. Can customers delete or void payments? Answer
8. What security is in place with SOFTtelPay? Answer
1. When do our customers' payments credit our bank account?
Approximately 24-48 hours from the next business day.
2. What is the cost per transaction?
To the Utility: NONE
To the Customer: This can vary depending on whether the utility company has a
merchant account.
3. What company name will appear on the customer's statement for each charge
made?
If your utility company has its own merchant account, it will be your company's
name.
If your utility company does not have a merchant account, it will be SOFTtelPay.
4. Can customers pay more or less than the amount of their bill?
Yes.
5. What credit/debit cards are accepted?
MASTERCARD / VISA / DISCOVER
6. Can customers make payments if they do not know their account number?
Yes, if the utility does not provide account balances or if they receive an email
from SoftTelPay containing a payment hyperlink that automatically signs them into
their account.
7. Can customers delete or void payments?
No, but they can contact their utility office and make arrangements to do so
for a service charge.
8. What security is in place with SOFTtelPay?
SOFTtelPay uses a 256-bit secure socket layer technology for data transmission,
and no sensitive card information is stored. In addition, the website is controlled
by username and password for utility access.
For any other questions you may have, please fill out the contact form and a SOFTtelPay representative will respond to you as quickly as possible.

© 2011 • SOFTtelPay • A Division of Intedata Systems